Apple and SAP hope to create a new class of iOS developers
Apple and SAP are looking to foster a new breed of enterprise iOS developers by simplifying backend systems integrations and moving business services to the cloud.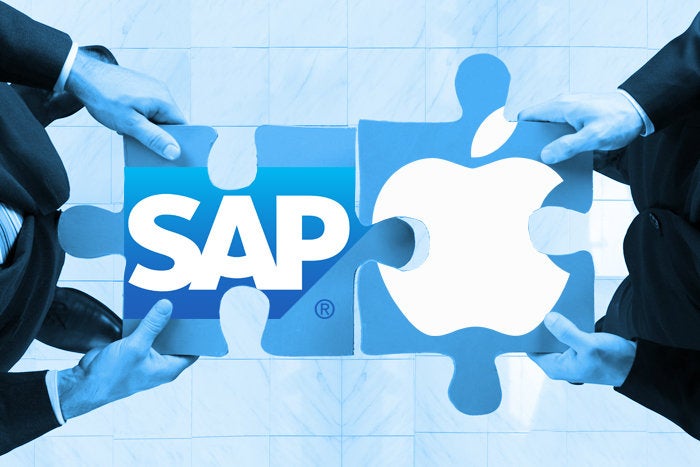 The head of SAP's developer initiative with Apple has high aspirations for the partnership and the impact it will have on enterprise mobility. "I believe what's going to happen with the release of the SDK, and the continued innovation and investment, is that we're going to create a new enterprise iOS developer," says Rick Knowles, senior vice president and general manager of the Apple partnership at SAP.
"It's a rare developer that exists, but now we're going to formalize this role and I believe we're going to grow a new development community around iOS specifically in the enterprise," Knowles says.
Apple goes straight to developers via SAP
SAP represents the first of Apple's enterprise partnerships that bring tools directly to developers. Both companies want to simplify the process for developers to integrate their apps with SAP's massive backend systems of transactional data. The goal, through the release of an SDK and API library, is to transform the amount of information developers can use and call upon in their apps.
SAP is pervasive in the enterprise, but the company is committed to becoming more open by making its services more readily available to businesses that don't deal directly with SAP, according to Knowles. "This is not just for an SAP customer and SAP systems, it is also to be open to allow for connectivity and integration to non-SAP systems," he says.
Instead of coding for SAP integrations, developers can rely on a feature-rich API library that already ties into backend SAP systems. "Everything that we are doing is adding elements on top" of Apple's iOS and exposing SAP services through the SAP Cloud Platform SDK for iOS, which will be released later this month. "We have a deep engineering collaboration effort to align this," he says.
New SDK shifts developer responsibility to Apple and SAP
The initiative shifts developer responsibility to SAP and Apple to make sure backend systems integrations work seamlessly and are regularly updated, according to Knowles. SAP is also matching its development cycle with Apple's for iOS. The giant in ERP is committed to release updates to the SDK every four months.
SAP also wants to accelerate development cycles for iOS apps and is pinning its success on a three-month turnaround. "If these cycles are not three months or less to do app development, then I believe we will not be serving the enterprise market correctly," Knowles says. "We have to speed up the usability and flexibility of microservices for applications just like the consumer world."
Knowles expects the SAP-Apple partnership to foster a new community of iOS enterprise developers and a growing ecosystem of partners who may not have a long history or interest in business applications. "I see a whole bunch of new names that we don't normally think of as partners coming in to work with iOS specifically in the enterprise."