Intel tightens data-centre grip with Xeon Scalable Processor platform
The new platform, based on Intel's Skylake architecture, embraces a variety of integrated accelerators and complementary fabric, memory and storage technology.
Make no mistake: Intel's Xeon Processor Scalable Family, based on the company's Skylake architecture, is about much more than revving up CPU performance. The new processor line is essentially a platform for computing, memory and storage designed to let data centers -- groaning under the weight of cloud traffic, ever-expanding databases and machine-learning data sets -- optimize workloads and curb operational costs.
In order to expand the market for its silicon and maintain its de facto processor monopoly in the data center, Intel is even starting to encroach on server-maker turf by offering what it calls Select Solutions, generally referred to in the industry as engineered systems -- packages of hardware and software tuned to specific applications.
"They're moving up the food chain," said Patrick Moorhead, principal at Moor Insights & Strategy. "It's the first time that I feel like Intel can say they are delivering optimized workload-based computing."
The Xeon Scalable line, officially unveiled Tuesday at an event in New York, offers up to 28 cores per processor and brings together a variety of integrated accelerators and complementary fabric, memory and storage technology, some of which the company did not have until recently, Moorhead notes. It also represents a new way for Intel to package, market and deliver its technology, particularly for data centers that are moving toward software-defined infrastructure.
The launch is timely because just last month AMD unveiled its Epyc line, which offers up to 32 cores per processor and may be the most serious rival in the data center that Intel has seen in more than a decade.
Intel on its part has completely re-architected the Xeon processor family for servers. As it moves from the prior-generation Broadwell architecture to Skylake, the company is bringing two previously segmented Xeon processors lines -- the E5 and E7 -- into a unified platform in order to provide flexibiity and scalability from entry-level network, compute and storage workloads all the way up to mission critical in-memory, database and analytics applications, said Jennifer Huffstetler, senior director of product management for the Xeon processor family.
"We're seeing this as the biggest advancement in our data center platform in a decade," Huffstetler said. "We think this is really the platform for network refresh whether its enterprise, communications or cloud."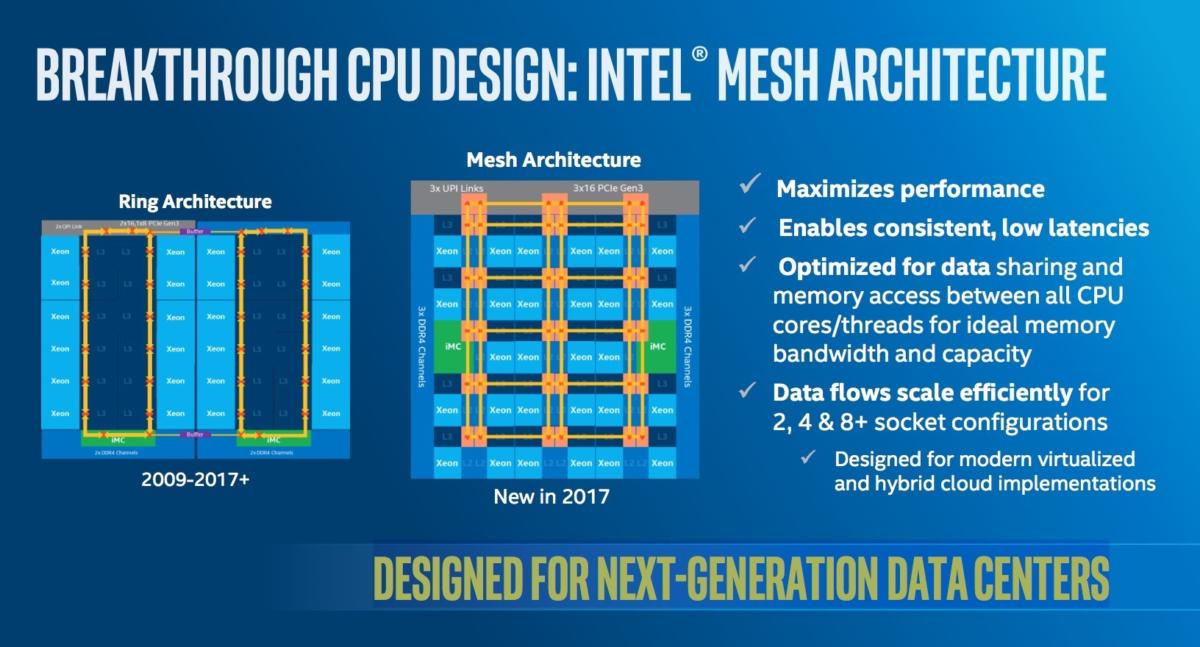 Intel's Scalable Processor line is based on a new Mesh architecture.
Key to the new platform, code-named "Purley," is Intel's new Mesh architecture, replacing the Ring Bus design Intel introduced along with the Nehalem platform in 2008.
"We were using the Ring architecture but as we added more cores and memory and I/O we were seeing a bottleneck, and so we've invested in this new data-center specific Mesh architecture," Huffstetler said. The Mesh configuration optimizes the processor architecture for data sharing and memory access among all the cores and threads, allowing the processors to scale up from two sockets to eight sockets while speeding throughput.