Why laptops won't come with larger SSDs this year
A tight NAND flash chip supply is pushing up prices for SSDs
A dearth in NAND flash chip supply will cause the prices of mainstream solid-state drives (SSDs) to leap by as much as 16% this quarter over the previous quarter, meaning laptop makers won't likely offer consumers higher capacity SSDs in their new systems, according to a report from market research firm DRAMeXchange.
On average, contract prices for multi-level cell (MLC) SSDs supplied to the PC manufacturing industry are projected to go up by 12% to 16% compared with the final quarter of 2016; prices of triple-level cell (TLC) SSDs are expected to rise by 10% to 16% sequentially, according to DRAMeXchange.
In the second quarter of 2017, the average prices of mainstream client-grade SSDs will keep climbing, but at a more moderate rate.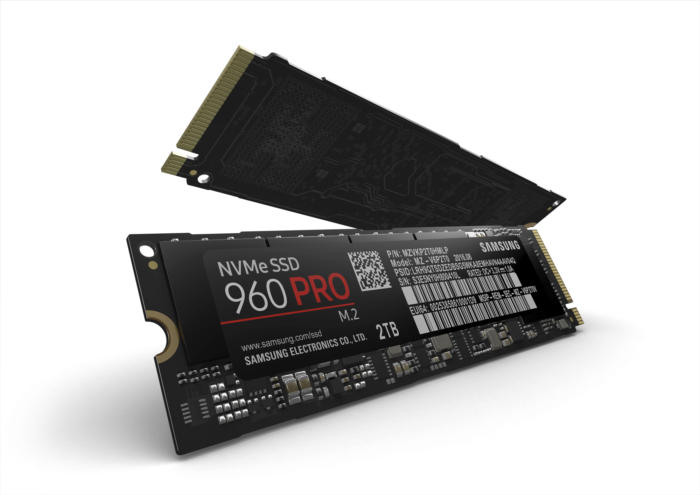 Samsung The 960 Pro, an M.2 NVMe SSD, is available in up to 2TB.
"Average contract prices of client-grade SSDs in the PC-[manufacturing] market are rising this first quarter because not only [are] PC clients ... aggressively stocking up their inventories, [but] smartphone clients are also maintaining strong demand for storage components," said Alan Chen, a senior research manager of DRAMeXchange.
In the current quarter, shipments of client-grade SSDs are expected to see a sequential drop of 7% to 8% due to a continuing undersupply in the NAND flash market. SSD shipments will be severely constrained in the near term as prices of TLC NAND flash continue to rise and memory module makers lack chips in stock.
MLC NAND flash stores two bits of data per transistor; TLC NAND flash stores three bits per transistor.
Also, affecting the price of SSDs is an industry-wide transition to 3D-NAND and 2D-NAND TLC, which has "sharply" reduced the supply of 2D or planar MLC-based NAND flash memory.

Micron An example of Micron's 3D NAND chip and gumstick SSD.
"Thus, the price increase of MLC-based SSDs is outpacing that of TLC-based SSDs," Chen said. "On the other hand, the tight NAND flash supply and sharp price hikes for SSDs will likely discourage PC-[manufacturers] from raising storage capacity. Therefore, the storage specifications for mainstream PC...SSDs are expected to remain in the 128GB and 256GB [range]."
Samsung is still the leader in the 3D NAND market, as the company has been shipping products based on its 48-layer technology since the fourth quarter of 2016. Micron and Intel, which are working together on 3D-NAND products, also started to ship their 3D-NAND SSDs in the fourth quarter, albeit in smaller volumes. Other competitors are slated to reveal their respective 3D-NAND SSDs in the first half of 2017 and begin shipments after that.